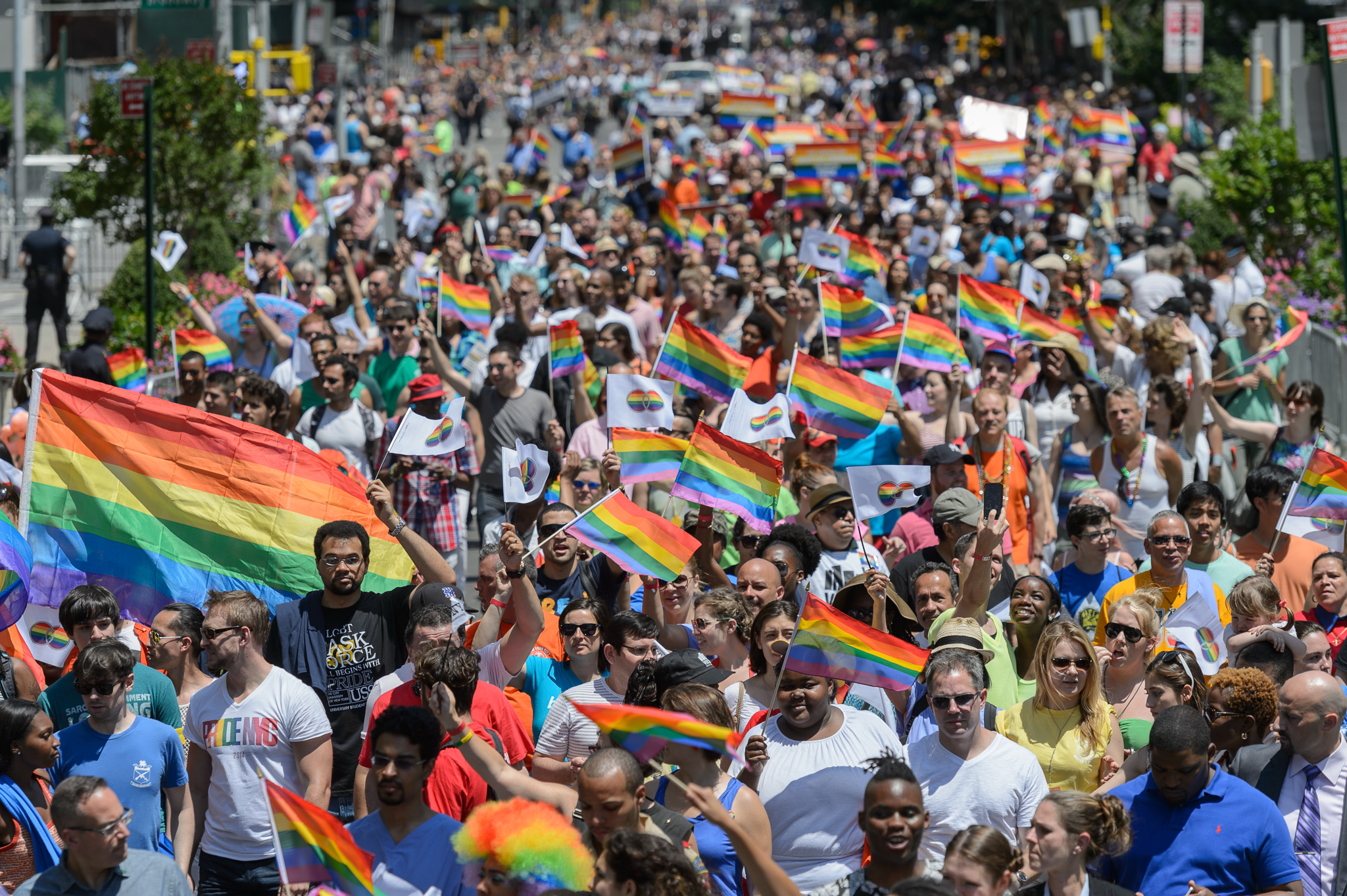 While we celebrate June for pride month it's important to remember where we came from and those who have fought for the freedoms we have today, including the activists who continue to fight today. Some people question why there is a need for a gay pride and I have to respond why not? In reality that answer is much deeper. When you are an oppressed class of society safety is huge and the way you get that is to find your own tribe. Being LGBTQ it's sometimes tough to find others like you, other than online or in the bars. Pride offers another venue to connect to others but also celebrate who we are and the strides we've made. It's also to show that more work needs to be done, to advocate for change. More importantly it's to honor those before us who have paid our way to where we are today, as we are doing for future LGBTQ generations. There is so much work left to be done in terms of LGBTQ equality. LGBTQ pride is not only a celebration but a declaration that our community isn't going anywhere. We have fought with blood, sweat and tears for the rights we have today, and we refuse to let anyone take them away. We also stand up for those who are having to endure hate and discrimination currently. So many LGBTQ people live in hiding in fear of rejection, hate and harm, including murder for many. Until all of the LGBTQ is free, none of us really are. It's important to stand up and fight for those who aren't able to, in the hopes that one day they will have the courage to do the same.
Many people don't realize that pride started from the Stonewall Riots. It was the inciting incident for LGBTQ equality and June is Pride month because of Stonewall. The Stonewall riots were a series of demonstrations by the members of the LGBT community in New York city. The demonstrations were against a police raid that took place in the early morning hours of June 28, 1969 at the Stonewall Inn that was in Greenwich Village of NYC. It is well know that these events led to the most important event leading to the gay liberation movement and the fight for LGBTQ rights in the USA.
Gay people weren't accepted in most establishments the 1950's and 1960's. During this time the LGBTQ community faced an anti-gay legal system. Many anti-gay groups in the United States were out to prove that gay people couldn't be integrated into society. Various social and political movements in the late 1960s like the civil right and anti-Vietnam War movement server as catalysts for the Stonewall riots.
The Stonewall Inn was known to be popular among the poorest and most marginalized people in the gay community: drag queens, transgender people, African Americans, effeminate young men, butch lesbians, male prostitutes, and homeless youth. These marginalized groups were at the forefront of the Stonewall Riots. The raids by the NYC police department were routine in the 1960s. The police's treatment of the Stonewall Inn and the LGBTQ partons inside the club was the inciting incident that incited the riots. The gay residents of Greenwich Village organized into activist groups who sought to establish places for the LGBTQ to be open about their sexual orientation without fear of being arrested.
Martha P. Johnson was an outspoken advocate for trans people of color. She played a large role in the Stonewall Riots and co-founded the Street Transgender Action Revolutionaries (STAR) alone with Sylvia Rivera, a group committed to helping homeless transgender youth in New York City. Martha found joy as a drag queen amidst the nightlife of Christopher Street. She designed all her own costumes and quickly became a prominet fixture in the LGBTQ community serving as a drag mother by helping homeless and struggling LGBTQ youth. She also traveled the world as a successful drag queen with Hot Peaches. Martha was known for her outlandish hats and glamorous jewlrey. She was fearless and bold. Often times people would as Martha what the "P" in her name stood for, to which she replied "pay it no mind."
Tragically, at the age of 46, Martha's body was found in the Hudson River. Her death was ruled as a suicide, despite claims from her friends and other members of the local LGBTQ community that she was not suicidal. The New York City Anti-Violence Project has re-opened this investigation. In 2015, The Marsha P. Johnson Institute was established. Its mission is to defend and protect the human rights of transgender and gender nonconforming communities.
Even after the Stonewall riots, the LGBTQ community in New York City faced gender, race, class, and generational obstacles to becoming a cohesive community. Six months later, two gay activist organizations were formed in New York, concentrating on confrontational tactics, and three newspapers were established to promote rights for the LGBTQ community. Over the next few years, gay rights organizations were founded across the United States the and the world. The first gay pride marches took place in New York City, Los Angeles, San Francisco and Chicago on June 28, 1970. They commemorated the anniversary of the riots. Similar marches were in other cities. In 2016, the Stonewall Inn was honored as a national monument. So it's important that remember the activists who sacrificed so much in order for equality.
It feels strange looking at pride differently as in the past when I identified as a gay male. Now that I realize I'm transgender pride has taken on a new meaning. Though until I can transition more it won't feel as natural or satisfying. I still look mostly male especially because I have a beard for the homeless shelter. I still remember my first gay pride. It was at the Lansing (Michigan) gay pride when I was in my early 20's. I don't think I have ever felt more free and accepted in a group before. It was sea upon sea of the rainbows. This was back during my dancing days so of course I went to the pride dance that night at the Paradise nightclub in downtown Lansing. I loved that place. They had a huge dance floor and my favorite thing was their gogo cage that they had. Most of my time was spent in that cage whenever I danced there. Sadly it closed years ago. Lot's of great memories that I will not ever forget.
I have also been to some bigger city prides, which are fantastic and so much fun. My first one was when I was living in Chicago. Their parade was massive and went through boystown and parts of downtown. There were spectators all over. One of the years I rode on a double decker bus, on the top level. It was so much fun. They also had a festival with entertainment. I love the big city prides because usually it's a week full of pride events leading up to the actual day. Columbus, Ohio really knows how to pride it up. One of my favorite drag queens Nina West always holds a pride drag show the week before. There are various other drag shows and other events prior.
Their festival is massive, taking over a whole park. There are lots of vendors and fun things to buy. They also have multiple stages for various live acts. My favorite part of pride weekend is on Sunday when they have their annual fundraiser Bat n' Rouge. The Columbus Lesbian and Gay Softball Association raise money for various LGBTQ non-profits around the area. The best part of it is that the players dress up usually in drag as various celebrities and characters. It's a lot of fun. Their tag line is that it's the only time softball is a drag. 🙂
One of my favorite parts is there are cheerleaders for both time, many of them are drag queens. Hygiene's and Monistat's are always a hoot to watch as they usually are up to no good. Columbus is one of the cities I miss the most and it's due in part to Bat'n'Rouge and Pride. I really miss Bat'n'Rouge it's just a blast and fun to hang out with friends while you eat and drink. One year I worked the beer tent for charity. Over 2k people show up each year, they even have tents that you can rent out.
One trend lately that I've struggled to accept is requiring an entrance fee to the festivals. It's the one place many people have to be accepted and around those like them. Teenagers are one prime example and many of them couldn't afford the money, so they would miss out. We should rob anyone of pride. I get that the organizations need to pay for the costs of running an event such as this but there should be something in place in case people won't able to pay.
While we do finally have marriage equality we still have so far to come. For so many LGBTQ people grow up in areas that aren't accepting. Children and Adults are still being rejected for being different. Things are better for many but not all. The one nice thing about the popularity lately with pride events is that smaller cities and towns are holding their own. Yonkers Pride in Yonkers, NY just had their first pride this past weekend. The cities population is over 200k. There are also other LGBTQ pride events across the globe, even in places like Russia where it's dangerous to be out of the closet. Even though we have marriage equality gay people still can be fired from their jobs or losing housing.
The transgender community lately has been getting hit the hardest in terms of discrimination from the Trump administration rolling back the protects of trans students and Trump trying to ban transgender service people. Not to mention the various states who have tried to ban transgender people from using the bathrooms in the gender they identify as. In addition there are states like Oklahoma who are passing laws where organizations can discriminate against LGBTQ families who want to adopt. It's almost weekly you hear about another hate crime against the LGBTQ community, especially those who are transgender.
One of the latest victims of a hate crime was the killing of Blaze Bernstein, who was home visiting his family on winter break. Blaze was gay and jewish. He's now being honored by a movement called Blaze it Forward. It a movement where people do good things for strangers and say to them to Blaze it forward, a take of the pay it forward ideology.
One of the most well known victims of a hate crime is Matthew Shepard. He was an American student at the University of Wyoming who was beaten, tortured, and left to die near Laramie on the night of October 6, 1998. Following her son's murder, Judy Shepard became a prominent LGBT rights activist and established the Matthew Shepard Foundation. Shepard's death inspired notable films, novels, plays, songs, and other works. Matthew Shepard's murder brought national and international attention to hate crime legislation at the state and federal levels. In October 2009, the United States Congress passed the Matthew Shepard and James Byrd Jr. Hate Crimes Prevention Act, and on October 28, 2009, President Barack Obama signed the legislation into law.
This administration is working hard to overturn every advance for LGBTQ equality. Even marriage equality could be at risk with this administration. Not to mention the conditions for LGBTQ communities in the world, who are much more harsh towards their population. It was reported that more than 100 male residents of the Chechen Republic, a part of the Russian Federation, have been abducted, held prisoner and tortured by authorities targeting them based on their perceived sexual orientation. An unknown number of the men, whom authorities detained on suspicion of being gay or bisexual, have reportedly died after being held in what human rights groups and eyewitnesses have called concentration camps.
The fight for equality is long from over.
Some people might understand why there are pride festivals and that's okay. These celebrations aren't for them. As the country becomes more accepting of those who are LGBTQ things will continue to improve, which has increased the attendance of many pride celebrations both in queer people feeling they can come out in public without ridicule and our straight allies who want to celebrate us. I say go ahead and hate us. These bigots are missing out on some very fabulous and fun people.
Even though I don't go to pride every year, mostly due to my mental illness, I still makes me feel safe that I have a place to go if I so choose. I'm happy that our current and future LGBTQ generations will have a place to go for acceptance and to celebrate all the colors of the rainbow. So happy pride month. I'm excited to be able to go to Lansing Gay Pride again this weekend.